WR Client - software for extracting records from NFS Shift and sending them to this site.

Download WR Client v1.06 for Windows

Windows 7 Note: WRClient must be launched with Administrator permissions.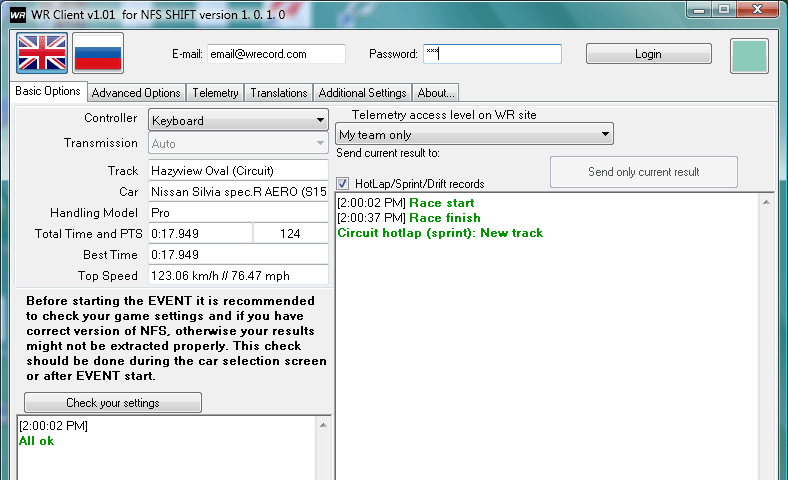 Quick start guide:
1. Register on the site.
2. Download and run WR Client. Enter your login info from the site into corresponding fields and press "Login" button. You also need to manually select your controller and transmission type. All required WR Client controls are located on the first "Basic Options" tab. You might want to switch to "Advanced Options" tab to view some statistics or to send records in a batch mode.
3. Start NFS Shift patched to the latest version. Note that WR Client must be launched before NFS.
4. Go to Controller Options and clear all keys responsible for Nitrous (press "backspace").
5. Go to Quick Race > Race/Drift and choose any event.
6. In the Event Customization menu set the following required settings:
Laps: 1 (for Drift) or any amount for Circuit
AI Opponents: 0
7. Proceed to the car selection menu and select any car you like. It is recommented before starting the race to switch to WR Client and press "Check your settings" button to make sure your settings are correct and WR client is working properly.
8. After race is finished your result will be automatically extracted to WR Client. To submit youк result to the site you need to press "Send only current result" button.